.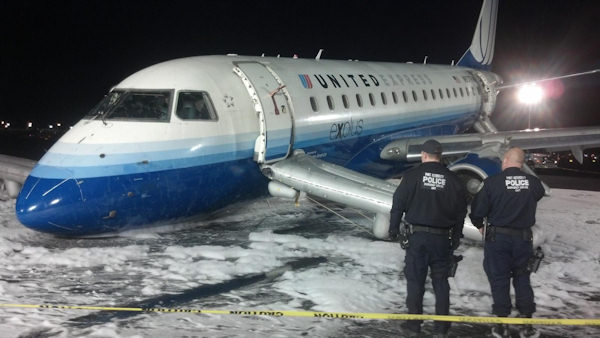 Photograph courtesy of ABC7, for this and more pictures, click here.
On February 27, 2012, a Shuttle  American aircraft, operated as United Express (d/b/a United Airlines) Flight 5124, crash landed at Newark Liberty International Airport (EWR) when the nose landing gear failed.  The flight originated in Atlanta, Georgia at Hartsfield-Jackson Atlanta International Airport (ATL).  Following the terrifying emergency landing, passengers deplaned onto a foam covered runway via the plane's emergency chutes.
Prior to landing an indicator light came on in the Embraer 170 aircraft, indicating that the gear was not down.  The pilot did a fly by at the Air Traffic Control Tower and it was confirmed that the gear was in fact, not down.  The pilot immediatly declared an emergency and asked for fire rescue to meet the plane.
The full story can be found, here.
Additional pictures from the scene of the crash, can be found, here.
The National Transportation Safety Board (NTSB) does not appear to be investigating.
If you were injured at any time during this event, either during the crash landing, evactuation, etc. you may want to consult with an attorney at your first opportunity to learn of your rights.  If you have been contact by a "representative" from the airline, you may be speaking to an attorney hired by the airline.
If you have any questions regarding this information or would like to learn more about Brodkowitz Law's work representing injured passengers of commercial airline flights, visit our website or contact us for a free consulation.